Does your company work on several projects at the same time? Does your team work on several projects at the same time? Yes? Acunote now has something new to offer you! No? Don't worry, your Acunote experience is not going to change!
This new thing we've introduced to Acunote recently is the project support. So what is in project support for you? Most importantly, project is the way to organize sprints into a named group. The screenshot below demonstrates the organization with two projects and several sprints inside each of the project.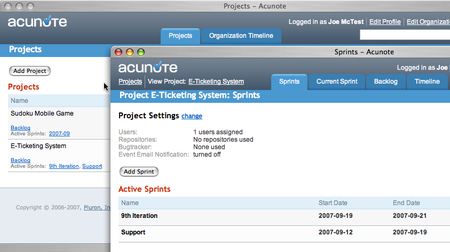 Of course, project is not only a container for sprints. Acunote will now always try to show you only information relevant to the current project.
For example, each project has the list of assigned users so that in the task list, task creation and code inspection dialogs you'll see only the list of users assigned to the project you're currently working in. This greatly simplifies task management for organizations with a large number of users.
To bring you a more fine-grained control, the timeline will show task and sprint modification events only for tasks and sprints from the current project. As usual project timeline can show you source control commits but now only from those repositories that are explicitly added to the project. It's important to note here that it is still possible to see events for all projects in the organization timeline.
Other features like bugtracker and email notifications also became project wide. For instance, this makes it easy to work with different bugtrackers for different projects you have.
User assignment, management of project repositories list and other project specific actions can be performed from the project settings page (available to organization administrators only) like shown in the screenshot below.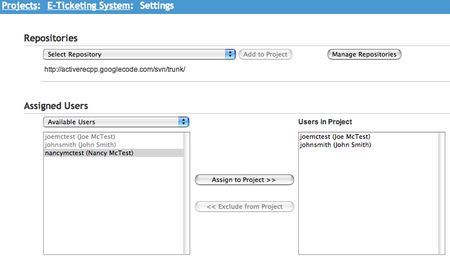 Now let me say a few words for those who don't need projects. We put a tremendous amount of work to keep Acunote as simple as possible. And each time we add new feature we always make sure it doesn't get in your way. Hopefully we've achieved the same goal with the project support feature introducing the easy and automatic migration path for you.
We've automatically created the project with the same name as your organization and moved all your sprints into that project. We've assigned all existing users to this project and also added all your current repositories there. So you can keep working as if nothing has changed. Please keep in mind though that new users and repositories you add have to be assigned manually to the project and also please remember that you can change bugtracker and email event notification from project settings page, not from organization settings page as before.
This is only the start, we of course plan to add more value to the projects feature in Acunote like project-specific progress and prediction reporting, burndowns for projects and so on. Stay tuned!